Crazy hair colours vary from vibrant pinks,blues and reds to pastel hues and creative looks with slices of different colours coming through the hair to a flattering Balayage to soften the hair or an ombre to create lighter hair towards the ends!(:
They all have something in common!
They take time to create the beautiful looks we are aiming to achieve!(:
Balayage and ombre has become a fast selling colour trend worldwide however there are pros and cons! You will not be able to achieve the exact result you are looking for when you walk in the salon this is due to the warmth of the undercoat in your hair but this will be changed a few weeks after the first lightening to prevent any hair damage and to ensure we achieve the right result!(:  see here below in the photo of Khloe Kardashian and it shows the different steps and times she went in for a colour on how much her hair has gradually changed over time !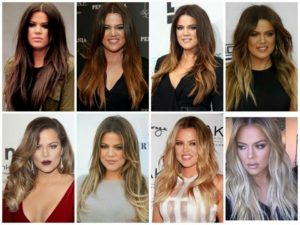 To to understand more on how you will achieve your result click on the link below to understand what will happen before you commit to these beautiful  colours!(:
https://www.buzzfeed.com/chrissymahlmeister/mermaid-hair-irl
To book in for a consultation with one of our stylists call us on 01364 644000 or message us(:
#plumstheword
#seeyousoon